What to Do in Penang in 3 Days
As a part of my two week trip around Malaysia, I spent some of that time in Penang, a state in the northwestern area. The most famous part is the island off the coast, and it's known for its great food and culture, and it's even kid-friendly. Here's what to do in Penang in 3 days or a nice, long weekend!
My Malaysian friends said that they sometimes go for a weekend, just to eat! I can fully imagine that. It's a wonderful island to spend a few days on, and in this article, I'll share all I got up to while I was there.
Near Penang
Top Things to Do in Penang
Relax on the beach at Batu Ferringhi
I had one of my best moments on Penang on a Sunday afternoon when I met with a group of friends at Batu Ferringhi. The beach is about half an hour away from George Town, on the north coast of the island. The beautiful white sand beach is perfect for a nice walk on the beach, or possibly a bit of sunbathing.
Swimming is not a good idea here: I almost immediately spotted a jellyfish in the water. Batu Ferringhi is not only a beach, but also a seaside resort. Many hotels have a private beach, but you can go to the public beach near Starbucks for free. In the evening, there's a night market, where you can eat super well or find cheap souvenirs to buy. Long Beach Food Court was my favorite.
Take in panoramic views at Penang Hill
For a nice view over the island, go to Penang Hill. The 735 meter high hill is a few kilometers from George Town. You can climb up yourself (this takes apparently 2 hours), or take a train, which is only a 5-minute ride up. It's been in use since 1923, but don't worry — the route was completely redone in 2011. It feels rather futuristic when you zoom up. Up top, you can walk around or eat something at the Panoramic Restaurant.
Going up on a Saturday, I only had to wait 10 minutes, but going back down was much busier, and I waited around 45 minutes. A roundtrip ticket costs 30 MYR.
Wander around Kek Lok Si Temple
Not far from Penang Hill is Kek Lok Si Temple, the largest Buddhist temple in Malaysia. And what an impressive complex this is! When you drive or walk, you will really have to pick up your jaw from the floor. The construction of the temple started in 1883.
What I liked so much about it was the fact that it consisted of so many different parts — gardens, colorful prayer rooms, beautiful views… With a train, you can go to the statue of the goddess Kuan Yin. The pagoda from 1930 is also very impressive, and can also be climbed.
You can enter the temple in two places. There's the old entrance, which will take you through the souvenir shops, or you can use the one by the parking lot higher up the mountain. The temple itself is free, but the train costs around 6 MYR if I remember correctly. Make sure you dress a bit more conservatively since it is a temple. Nearby, you'll find a nice Laksa stall for food!
If you want a guided tour to both Penang Hill and Kek Lok Si, check out this tour.
Enjoy George Town
The capital of Penang is immediately the best place to visit. It took me a while before I was accustomed to the hectic nature of the George Town, but now it has really captured a place in my heart.
The best part is its beautiful UNESCO-protected city center. Its old Chinese houses and shops have been preserved, and they're absolutely beautiful. The city is also filled with interesting street art, interesting landmarks, beautiful temples, and the best food in all of Malaysia.
For a tour of George Town, check here.
Take a Tour of the Cheong Fatt Tze Blue Mansion
The beautiful Cheong Fatt Tze Blue Mansion in George Town is a protected residence built by trader Cheong Fatt Tze, a Chinese immigrant who worked his way up from poor worker to wealthy magnate and politician. At the end of his life, he was a man of distinction and was nicknamed the "Rockefeller from the East".
He had his house built in Penang in 1897. It has 38 rooms, a number of interior gardens, and of course the classic indigo-colored walls. Fans of architecture will love to visit the building, which is decorated in Feng Shui style and has many Chinese characteristics.
After his death, the building fell into disrepair. It wasn't until 1989 that the house was bought with the aim of restoring it to its original glory. It has been active for a while as a beautiful boutique hotel and museum. Because the building is also used as a hotel, not everything can be visited. The next time I come to George Town, I think I'm going to stay here.
A visit to the Cheong Fatt Tze mansion costs 16 MYR. You can only visit the house with a guided tour, which takes place every day at 11:00, 1:30, and 13:00. If you want to stay here,  check the current room rates here.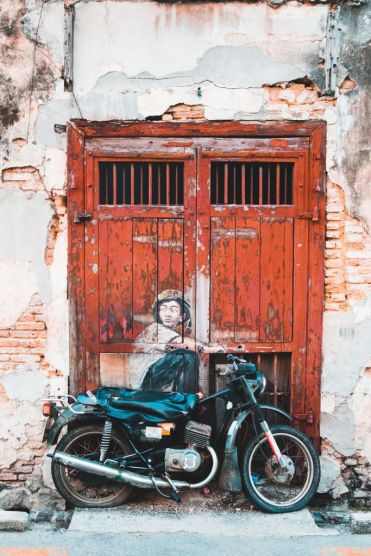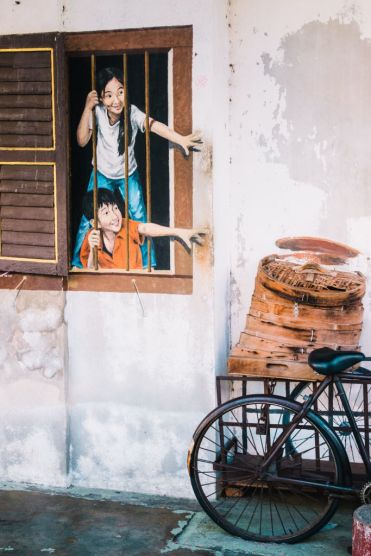 Explore the Street Art
George Town is known for its street art. And the cheerful decorations of the traditional shops make the center a fun place of discovery. The Lithuanian artist Ernest Zacharevic is responsible for much of the art in the inner city. You can find tickets online with the locations of street art, but a friend of mine received a physical ticket at the reception of her hotel, so I would say: ask at the reception.
@CAT Penang
Well, for most people this tip is not interesting, but if you happen to be a digital nomad like me or looking for a good place to work, then I can recommend your @CAT Penang, near the port where the ferry arrives from Butterworth. Such a nice workplace, nice and quiet, with nice desks, super fast internet, and good air conditioning. Also free tea, coffee, and water, by the way!
What and Where to Eat in Penang
These are some foods to try as well as some of my favorite places to eat. However, if you want a more guided tour of Penang's food scene, check out this tour.
Laksa
Laksa is one of the traditional dishes in Penang. It is a kind of sweet and sour spicy noodle soup, with a fish base. It is also full of all kinds of vegetables and herbs and is supposed to taste like tamarind. I'm not actually sure because I don't know what tamarind tastes like!
The best laksa you score is at Ayer Itam Laksa Assam, near the Kek Lok Si Temple, according to my driver. Although I did not have anything to compare it to, I thought the laksa was tasty, and the place was packed with locals.
Char Koay Teow
Another delicious dish that is traditional for Malaysian cuisine. It is a stir-fry dish with noodles with a mix of shrimp and meat. It reminded me a pad thai. You can score this dish anywhere on food markets, so I really do not have a big tip, even though I have eaten a delicious version at the Chulia Night Market.
Thali NR Sweets Cafe
Malaysia also has a large Indian population, and one of the Indian friends of my travel companions indicated that Thali NR Sweets Café is the best place to have lunch in George Town if you want Indian food.
Luckily it was around the corner of my hotel in Little India. Here you can (not surprisingly) eat Thali, such a dish with all kinds of different small dishes. It is also a vegetarian restaurant, so it's a good place to get your vitamins. I do not remember how much I paid, but I remember that I found it dirt cheap. It was also full of locals, so that's fun :)
Chulia Street
Chulia Street in George Town is pretty much the main street of the city, and also one of the oldest streets. On this street, you will find a lot of nice eateries and at night, a night market where your mouth will water as you walk past the stalls. You can eat like a king here for a few euros.
Love Lane
Love Lane also has a number of nice cafes, but it's especially suitable for nightlife. Every evening this quiet little street transforms itself into a nightlife center full of terraces and happy hour (or, yes, from six o'clock to ten o'clock at night). It's nice to sit here with a drink and people watch. I spent my best night in George Town on this street.
Mugshot Cafe
My favorite cafe in George Town was the cute Mugshot Café, which I visited three times. The bagels here are delicious, and it is a very hip café. You can also sit outside in the sun and watch people.
Pit Stop Café
I was invited to brunch in this cafe and had a delicious meal. Even more fun: we also got some mini ice cream cones from the owner with mango and cream cheese. A strange combination but very tasty. The service here is lovely!
The Daily Dose
On my last morning in George Town, I went for breakfast here. I had a bowl of yogurt with muesli and fruit, and although it was a bit sweet, it was tasty. It is also a great place to sit. I sat outside on the terrace, and the building is so beautiful and old that it felt rather romantic.
BoraBora Penang
A local advised me that when I went to Batu Ferringhi beach, I had to have a drink at BoraBora and catch the sunset there. And that was a good tip. I gathered all my friends around me, we drank endless drinks, and when the sun dipped into the sea, we all climbed on towels on the beach to see how colorful the sky was.
Where to Stay in George Town
The best place to stay on Penang is George Town. That is why I have shared a number of suggestions for hotels and guesthouses, including the guesthouse in which I stayed! All the tips below are incredibly affordable and comfortable, and one of my friends or myself stayed there, so I know it's a good recommendation. Photos via Booking.com. 
Old Penang Guesthouse
I almost stayed in Old Penang Guesthouse, but at the last minute, I decided to choose another guesthouse. Later it appeared that a number of my friends stayed here and found it a nice guesthouse. It is in the middle of Love Lane and therefore has a fantastic location. There are both dorm rooms and private rooms available. Check the current prices here.
House of Journey
The hostel House of Journey has great reviews, and my friends were very pleased with the hostel. The rooms are cheap, and the hostel is also centrally located. Check the current prices here.
Container Hotel
Located near the harbor is the eco-friendly Container Hotel. It has all kinds of nicely designed rooms and is undoubtedly one of the hippest budget hotels in the city. Check the current prices here.
The Frame Guesthouse
This is the guesthouse I stayed in, and I can highly recommend it. What a beautiful old building this is! I stayed in a room with shared bathroom on the top floor. Two floors down is an open kitchen. My bed was lovely, the air conditioning very strong, and the location could not be better: right on Chulia Street, near the night market and love lane. Check the current prices here.
What would you do in Penang in 3 days?
General Travel Tips
Liked it? Pin it!