What you should know when visiting Auschwitz
Traveling is not always fun. And neither doesn't have to be, in my opinion. Personally, I travel to better understand history and other cultures. And sometimes in order to do so, you have to step out of your comfort zone. Confront yourself with the facts. That's why I've been wanting to visit Auschwitz for a long time. Last year it was finally time, and apart from putting my thoughts onto paper, I also want to give you some practical tips about what to prepare for when you're visiting Auschwitz. 

Practical information
Auschwitz use to to be three different buildings: Auschwitz I (with the infamous 'Arbeit macht frei' gate), Auschwitz II-Birkenau and Auschwitz III-Monowitz, a working camp that doesn't exist anymore. You can only visit the first two. You can either book a tour, or explore it on your own. I booked a tour with a tour agency. The upside is that everything's taken care of: you get picked up and brought back, you don't have to stand in line for your tickets and you get a tour by an Auschwitz guide who guides you around and gives explanation. Obviously the downside is that it's more expensive than arranging everything yourself, and that you have to stick with the program. You can't have a look at some extra buildings if it's not on the tour's route. But it's nice that you don't have all that extra stress with an organized tour, so you can really focus on the experience of the visit. Very nice if you do not have your own transport. Moreover, it's not that expensive. You can buy tickets for the organized tour here.
If you decide to go on your own, you can go by public transport (train) or go by car and park at the complex. It's a 10 minute drive from Auschwitz I to II, although I believe there's a shuttle bus going too. Auschwitz is about a one hour drive from Krakow.
Tickets for Auschwitz are free. Of course, you do have to pay if you want to book a tour guide. Make sure to reserve these beforehand! You can do so on visit.auschwitz.org. Here, you can choose your date and time of preference. They introduced this system because more and more people started visiting Auschwitz and it got too busy at the ticket entrance. Make sure to book your tickets way in advance (weeks!), so you don't show up for nothing.
Tips:
– Make sure to put on waterproof shoes that can get dirty. If you're not so lucky, like me, it'll be raining all day. If that happens it can get quite muddy, so make sure to arrive prepared.
– Make sure to put on sturdy shoes too: Auschwitz-Birkenau doesn't really have asphalt and you can find some rocks lying around on the road.
– The main part of the complex is outdoors. Prepare yourself for the weather: bring an umbrella, or a hat and some sunscreen. You'll be outside a lot.
– Bring some snacks and some water, and make sure to go to the bathroom before you enter the complex. As you can imagine Auschwitz doesn't have stalls and public toilets all around. The area is actually protected heritage. You can still get some snacks or go to the bathroom at the entrance, but once you're inside you have to deal with what you've got. Makes sense, doesn't it?
– Bring a small hand bag. If your bag is bigger than 30x20x10 cm you're not allowed to bring it inside.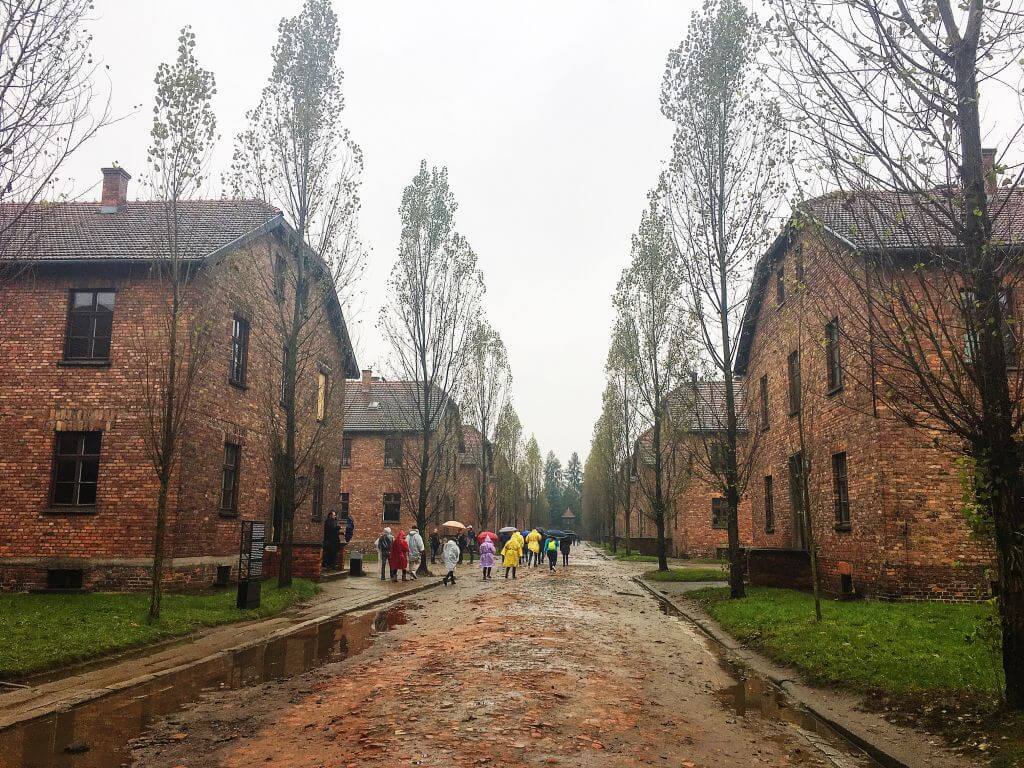 My thoughts
Like I mentioned earlier, I had wanted to visit Auschwitz for a long time. I find World War II a fascinating moment in history and would like to learn more about it. It matters to me and my development. I think you can only avoid history repeating itself if you really understand history. So that's the least I can do in the world we live in right now.
The day before we went to Auschwitz I was nervous and restless. I wasn't really looking forward to it. I didn't sleep well either, but I'm not sure if that had something to do with the visit. I guess I suddenly realised the meaning of this place and it intimidated me a little bit. While we were driving to Auschwitz the next day, no one in the bus said a word. We were all watching a documentary about the liberation of Auschwitz. The girl next to me was crying. I looked outside and could just about hold back my tears.
Once we got there, I immediately noticed Auschwitz looked much different that I expected. It's a lot smaller than I thought, just brick barracks in an industrial area. Later I learned this is because the images of Auschwitz I and II are often mixed up. Auschwitz I is quite small and consists mainly of brick bunkers, while Auschwitz II is known for the more wide camp with barbed wire around it, and the train tracks that lead into the camp. Auschwitz II is therefore a lot bigger, and literally got built because the first camp started to get too small.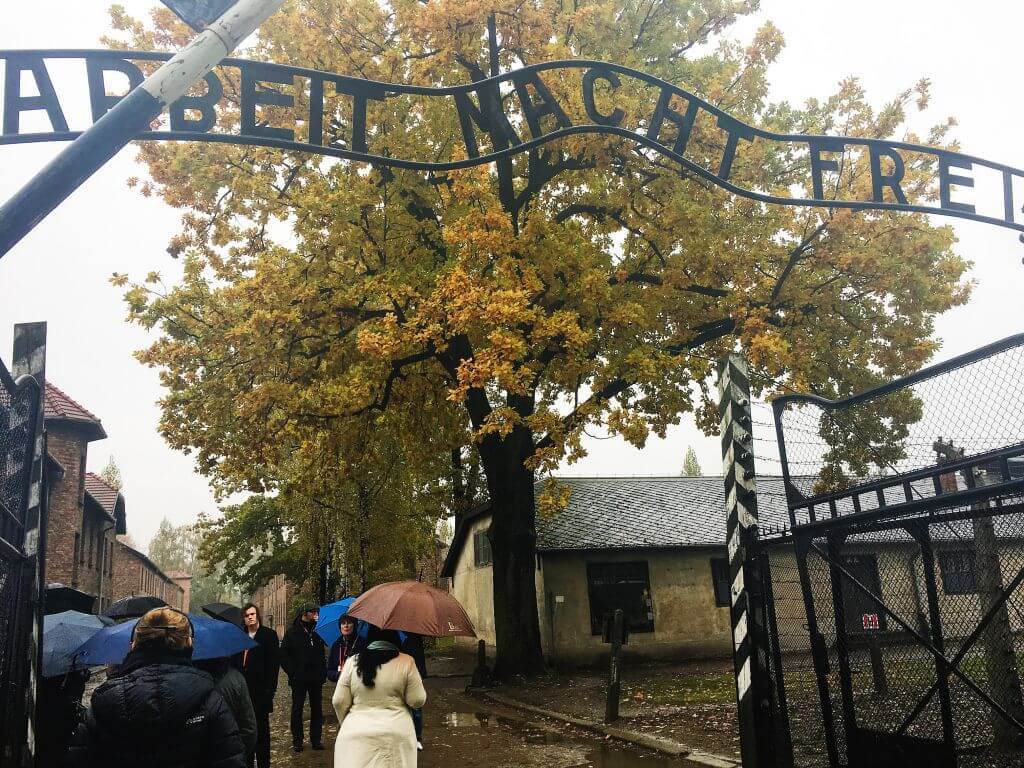 And then suddenly I was there and I couldn't fathom it. I was walking there where so many had people gruesome deaths. Where people spend their last hours in utter fear. And I just couldn't believe it. In Auschwitz II things started to hit me more, also because of how big it was. The wideness of it all. The fact it takes you over half an hour to walk from one side to the other. And the barracks standing there in the middle of nowhere, subjected to all types of weather. It was like a slap in the face. Human beings did this to one another. When I was there the weather was really bad, rain was pouring down and even though I was wearing a thick winter coat, I still felt cold. And then you realise seventy years ago people didn't have thick winter coats. They had to work in the pouring rain for hours, and as soon as they couldn't, they were executed.
And yet… to a certain extend you just feel cold. And your socks are drenched because of the rain. And it's just empty buildings. It's so hard to truly fathom what has happened here. Auschwitz keeps it quite anonymous in that perspective: you won't find personal stories about people who lived here (at least in the barracks I've visited, apparently there are more personal stories in other barracks). It's probably to protect the survivors and relatives. But I do think those kind of stories would bring you closer to history, to humanize all of it. To take it from the unimaginable number of 1 million anonymous faces to a handful of real people. People who dreamed, loved and feared. Just like I do.
During my visit I was less affected than I thought. But during the days after, it started to sink in. All the horrible things that happened there. Of course I already knew: I've seen tens of  movies and documentaries about the subject. But I'm 'happy' that I went there, and that I've gotten seen it with my own eyes, connect to it with my senses. Although I'll never know how it must have felt to live there, full of fear – fear for yourself, your family, your friends – at least now I can imagine what it looked like the next time I watch a movie about Auschwitz. And it adds an extra layer to it. Auschwitz is no longer an intangible thing for me, but a real place where I've been to. I've seen what it was like, and what horrible things have happened there. At some moments I've felt it hit me.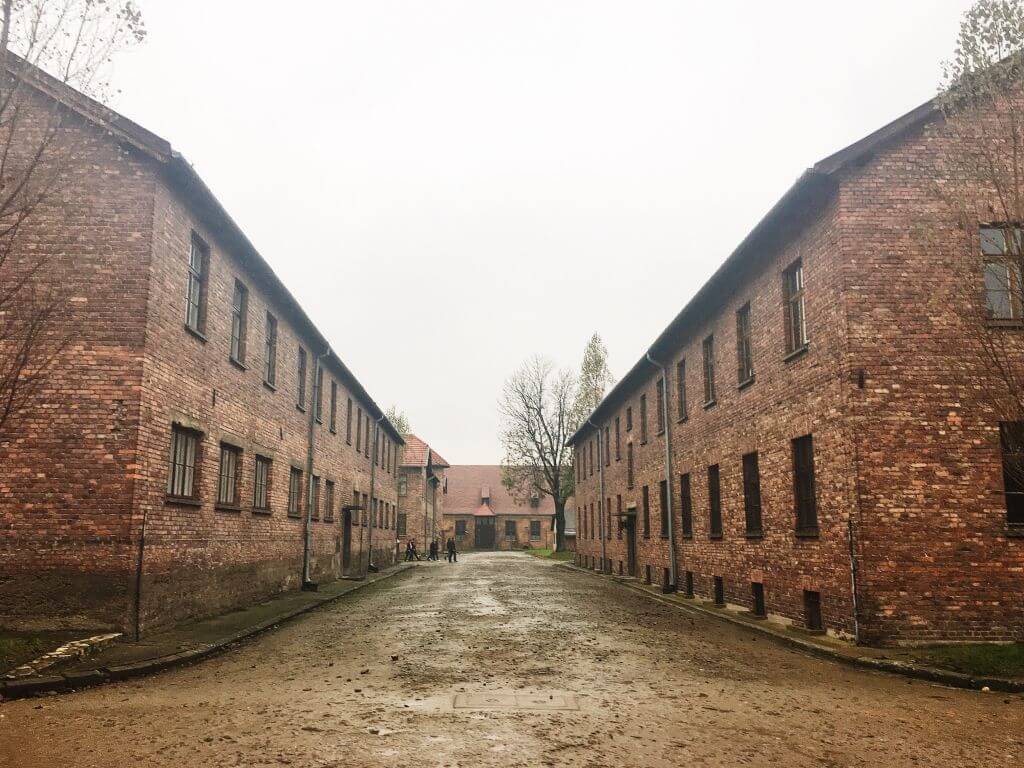 So it was quite an interesting trip. Different from what I expected. It didn't quite hit me as much in the moment as I expected, but it had a great impact on me later on. Apart from that, I'm lost for words… I don't think any words can do justice to the kind of place Auschwitz is. So I'll leave you here with the Facebook post I wrote after my visit…
"One of the reasons I travel is to understand history and to understand and get to know "others". Other cultures, people with different lives, different languages and different customs. What I have learned so far is simple: we are all inherently good and bound by our humanity. We want the same things: to love and be loved, for us and our family to be healthy and to feel safe. Visiting Auschwitz-Birkenau last week felt more important than ever in these fragile and frantic times. If you ever start seeing other human beings as non-human, different creatures because you don't understand their customs and cultures, please remember this place where over a million people were systematically erased because they were and looked different. They weren't. They loved the same. They hurt the same. They feared the same. And they dreamed the same. Never forget, and have some humility."
Looking for a slightly more upbeat Polish destination? Check out these 10 Polish cities for your next trip.
What did you think about your visit to Auschwitz?